What is Ladyfest? 什么是 Ladyfest?
Fei Xu LadyfestShanghai2017-08-25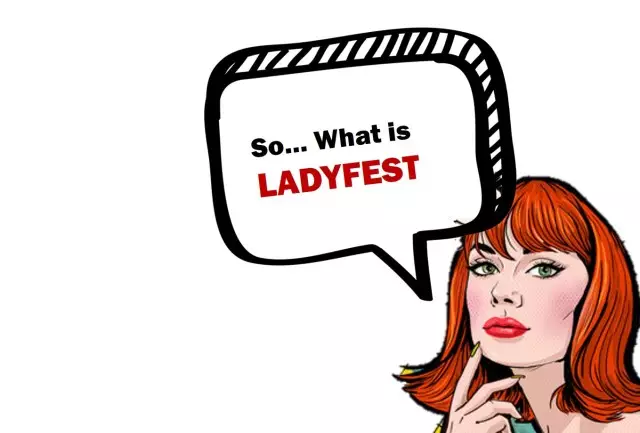 Ladyfest Background & History
Ladyfest背后的历史
Beside a place to see kick-ass girl bands, it is a community-based and collectively produced festival designed by and for women to showcase, celebrate and encourage the artistic,community and political work and talents of women.
除了是个看劲爆女生乐队的好去处,"Ladyfest" 还是一个以"本地社区"为原点,由女性群体携手举办的,为鼓励女性向外界展示其在艺术、社团及政治领域的成就及天赋而设计的庆典。

2000 August
The first Ladyfest was independently held in Olympia Washington in August 2000 by a collective of 55 female volunteers. This 4-days festival attracted an audience of 2,000, and raised $30,000 for a local rape crisis charity. Ladyfest have since kick-started a worldwide trend.
历史上的第一次Ladyfest在2000年8月份,由55名女性志愿者自发组织,于华盛顿奥林匹亚举行。这个为期4天的狂欢节吸引了2000名来访者,并向一个与"性侵危机"相关的本地慈善机构送出了超过三万美元的捐款。自此,"Ladyfest" 开启了一股全球化的潮流。
Ladyfest is an annual event featuring performance by bands, spoken-word artists, authors, visual artists and more! It contains fashion shows, dance parties, roller-derby, workshops on topics from basic auto mechanics to coaching to mandala drawing, short films, panels on positive body image, sexual health and gender socialization in schools, dance parties, and heavy metal karaoke.
"Ladyfest" 是由乐队,口语诗朗诵者、作家、视觉演员、等等艺术家们共同客串创作完成的。活动可以包括时装秀、舞会、旱地滑轮项目、涉及从汽车基础机械,人生教练,曼荼罗绘制,到短片制作等多种主题的工作坊 、以及针对发生在学校、舞会甚至是重金属卡拉OK中如何塑造积极身体形象,性健康及性别角色社会化相关的讨论小组。
我不是你的"宝贝",不是你的"甜心",我不会为你而笑,我在这里不是为了取悦你!
Ladyfest is a part of the punk-rock tradition. The event is an independent, grassroots movement that rejects corporate labels or funding and refuses to speak and act in line with the main stream commerce. It sets itself as an example telling the world that the institutionalized barriers to women's equal participation in all spheres of society has no longer exist, and women's choices of careers, hobbies, interests etc. must be made freely and not shaped and limited by sexism, racism and their class position.
以反叛女孩为前身,"Ladyfest"无疑是朋克摇滚传统的一部分。这是一个独立的草根活动,拒绝所有企业标识或赞助商,不以任何主流商业的姿势发表言论和做出决定。"Ladyfest" 以活动本身作为例子,向世界宣告 "过去阻碍女性平等参与到社会中所有活动中去的制度已不复存在,女性在职业生涯、兴趣爱好以及其他事项上的抉择,应由自己独立作出,而不要被性别歧视、种族歧视和社会地位的枷锁所塑造和限制。"
Ladyfest aims to foster a culture of "do-it-yourself" (DIY). Participants are encouraged to learn from their personal experience and participation in the festival and apply these lessons in their day to day life, promoting gender equality and living the values of equality whereby people receive support necessary for achieving their full potential.
"Ladyfest" 倡导"自主创造"的文化,鼓励活动来访者能够从所参加的活动中获得灵感和体验,并将其所学应用到他们的日常生活中:宣扬性别平等,并活出平等自由的信条,实现最大的个人价值。
Each Ladyfest, depending where in the world it is held, is different and heavily influenced by the local language, culture and contributors. All Ladyfests, however, are based on decentralization of power allowing for equity of participation. Ladyfest is not an organization and here are no leaders. All women involved in the event form a community and are encouraged to take initiative. If there is something you are passionate about and you don't have access to it, make it happen! Don't wait! Do It Yourself!
另外,每个"Ladyfest"都是独特的,每个活动因为其举行的国家地点、本地语言、文化以及参与策划者的不同而形态各异。然而,所有"Ladyfest"都是在权利分散的基础上建立起来的,因为活动鼓励所有人的参与。"Ladyfest"不是一个组织,所以这里没有领导者。"Ladyfest"鼓励所有活动中的女性积极主动地参与并形成一个社群。如果你对某样技能或项目拥有热情,却缺乏接触它的途径,那么就由你来创造这个途径吧!实现它!不要犹豫!自己动手完成它!
Ladyfest was by women, but it was never meant to be an exclusive female space. It is open to ladies and gents for all ages, regardless of their biological sex,sexual orientation, race, heritage, political stance, music taste or cup size.The event calls upon the local community to join in supporting freedom ofself-expression through a wide diversity of skills and to create an openenvironment which fosters mutual inspiration, exchange of experiences and visionsof femininity and gender equity.
"Ladyfest" 是一个由女性组织及设计的活动,然而从来不局限于女性参与。"Ladyfest" 向所有年龄阶段的女性和男性开放,无关性别、性取向、种族、遗传、政治立场、音乐品味或是罩杯大小。活动呼吁当地群众的响应和参与,通过向各界展现多样的技艺以宣扬自我表达的自由,并创建了一个开放的环境以焕发灵感的互换、促进经验的交流、开拓女权主义及性别平等的视角。
It is a day to highlight female talent to the community as a whole. Also it is an open platform to provide a safe haven for all to engage freely with one another, to express emotions that were traditionally denied to women or men in the public sphere, e.g. anger, self-loathing, vulnerability, or sadness. Whether you are a man, woman, single, married, have kids, young or old, Ladyfest has something for everyone.
这是向社会展现女性才能的一天。同时也是一个安全的让所有人能够自由互动的平台,在日常环境中所有被否定的情绪都能得以表达,比如愤怒、自我厌恶、脆弱、或是悲伤。不管你是男人、女人、单身、已婚、有孩子、年轻又或是年老,"Ladyfest"是每个人的节日。
Since 2013 March
Ladyfest Shanghai, a grassroots, nonprofit organization, was founded by a group of friends, after experiencing Ladyfest in their home countries. Jen Childs, Asia Palmowska, Amber Mizerak, JessicaLum and Jessica Martinelli decided that this event just had to be hosted in ourgrand city – Shanghai. Since then the team grew and many amazing women joined in to drive shaping of this celebration: Zoe Seiter, Fei Xu, Lili, Wen, SarahMou, Francesca, Kelly and Kerry. All of them come from different countries and bring different skills and talents to the table.
"Ladyfest 上海", 一个非营利的草根组织,是由一群在她们出生国体验过"Ladyfest"之后共同提议创建的。Jen Childs, Asia Palmowska, Amber Mizerak, JessicaLum 以及 Jessica Martinelli 决定要在上海也举办一个同样的活动。自此活动的策划团队日渐扩大,有很多出色的女性加入到其中,共同完成这个年度庆典的策划,包括:Zoe Seiter, Fei Xu, Lili, Wen, SarahMou, Francesca, Kelly and Kerry。她们都来自不同的国家,并给这次庆典展现了不同的元素、技能和天赋。
After three successful years, Ladyfest Shanghai returns in 2017 in a new location with an all-day event filled with new and engaging art installations, performances, workshops, speakers and vendors.
在连续三年成功的庆典之后,"Ladyfest上海"在2017年再次回归,本次活动将带你来到一个新的地点,崭新的互动式艺术装置、表演、工作坊、演讲及市集摊主!
Interested contributors must fill out the following application:
感兴趣参与活动表演、成为摊主、完成工作坊演讲的,必须扫描以下二维码,完成报名表的填写!报名将在周五,三月三日截止。
Reads 1814